Moana Hope has welcomed her second child with wife Isabella Carlstrom.
The former AFLW star shared the exciting news on Instagram over the weekend, along with a sweet photo of the newborn.
"Oh how wonderful life is now that you are in the world. We are so in love," the 34-year-old captioned a photo of their baby's tiny feet on Sunday evening.
READ MORE: Cardi B responds to follower who called her daughter Kulture autistic
https://www.instagram.com/p/CfRDl8HvLBN/
Carlstrom also shared a pic of herself holding hands with their new bundle of joy.
"'Thank you for choosing us. I love you my darling," the model wrote. 
The couple's famous friends were quick to congratulate them on Instagram, with radio host Ash London commented: "You did it Mo!!!!!!! Sooooo happy for you! What a foot!" and reality TV star Ash Pollard writing: "Well done Mo! Legend. Quietly cheering you on from here."
https://www.instagram.com/p/CfRDlKDp4hq/
Just one day prior to the birth, Hope shared photos of herself in a hospital delivery suite with their firstborn child, Svea, 19 months. 
"Svea feeding her mumma to make sure she can get through what's about to come,' Moana captioned the photo.
Like Svea, Hope and Carlstrom – who were married in 2019 – conceived their second baby via IVF using the same donor.
READ MORE: Jennifer Aniston pays tribute to legendary actor father at Daytime Emmy Awards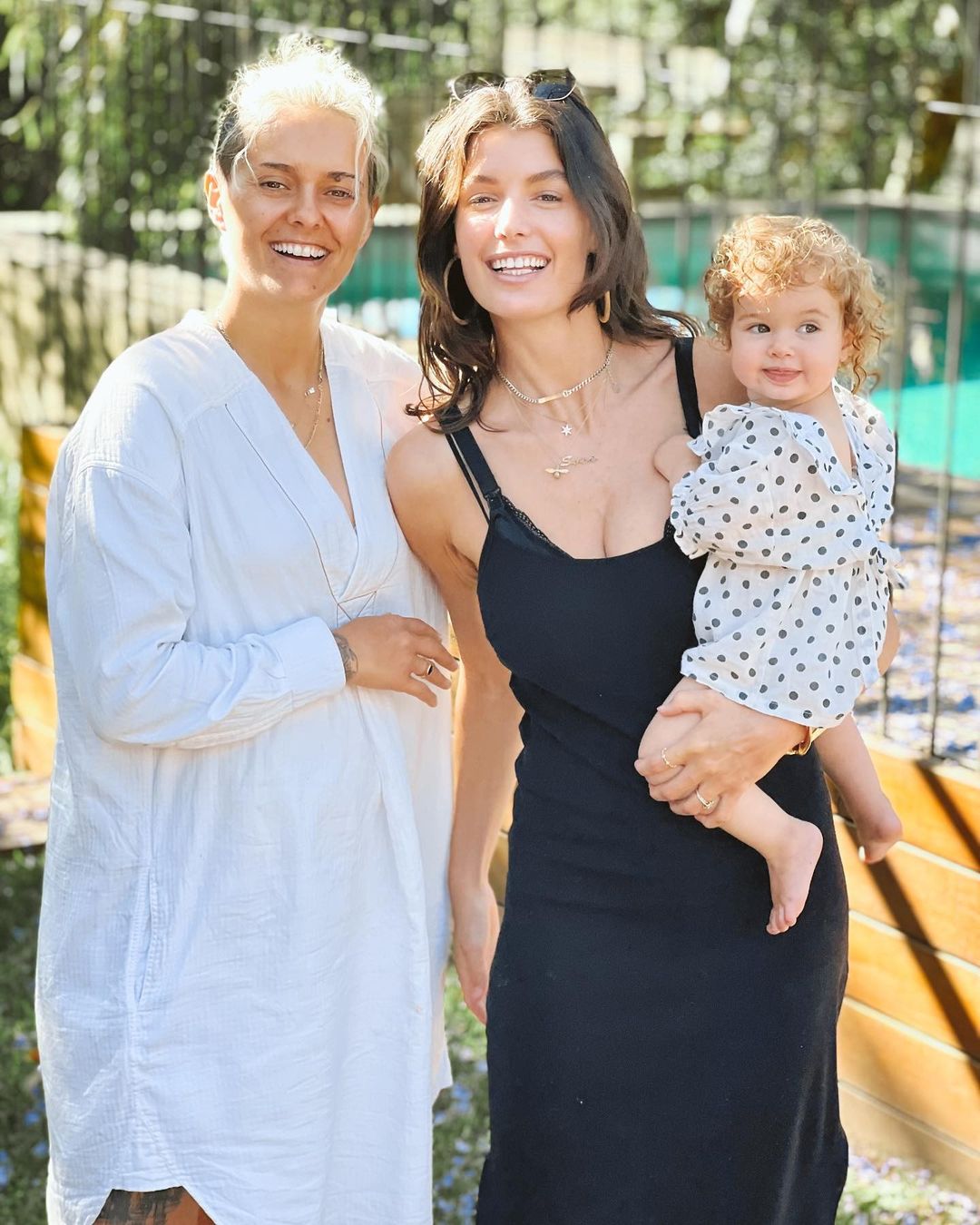 "We are thrilled to learn of the safe arrival of Moana Hope's baby and send a huge congratulations to her, Isabella, Svea and Vinny on the new addition to their family," Dr Gareth Weston, Hope's fertility specialist at Monash IVF, said in a statement. 
"It's been our privilege at Monash IVF to guide and support Moana and her wife Isabella through their fertility journeys, including helping them choose a suitable sperm donor for them, to help them fulfil their family dreams. To see them now with their two beautiful children is so heart-warming."
READ MORE: Olivia Rodrigo stops Glastonbury set to protest Supreme Court Ruling
We know how important it was for Mo and Bella to use the same donor to conceive their children and would encourage other eligible men to think about donating to help more people conceive, including same sex couples, single women and couples having trouble conceiving."
Back in 2020, it was Carlstrom who carried their daughter Svea to term, enduring 14 hours of labour in the process.
"My love for her is one that I didn't think could get any stronger, and then you gave birth to our child," Hope wrote on Instagram at the time. "First, let me tell you giving birth is the most amazing, and most beautiful thing a human can do. It's also the most exhausting, painful and scariest thing a human can do."
https://www.instagram.com/p/CHw9cq_AGwM/?utm_source=ig_embed&ig_rid=916e0254-4071-4df4-b6ae-f76a5f37c7d9
"Mostly scary for me watching the love of my life in pain and feeling helpless," she added. "Watching her push through 14 hours of labour was the hardest yet most inspiring thing I've ever seen. She made me feel like I could do anything, yet she was the one giving birth.
"Giving birth is not looked at or appreciated the way it should be. Women who give birth should be looked at like superhero's. Bell was our superhero, she did so amazing and I'm beyond proud of her."
For a daily dose of 9Honey, subscribe to our newsletter here.